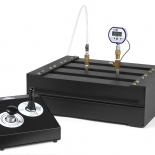 PB100K Equilibration Device
An Equilibrator for use with Tekscan's TireScan CrossDrive System.
Description
Equilibration devices are recommended for improving accuracy and lifespan of Tekscan systems. During equilibration, the sensor is inserted between a flat backing plate and an air filled bladder, which is inflated in order to apply a uniform pressure to the active area of the sensor. The equilibration process allows the software to compensate for any variation or uneven output across individual sensing elements caused by manufacturing or repeated used of the sensor. Equilibration devices are useful to perform quality assurance checks on the sensor and confirm uniform output by the sensor.

Why Equilibration?
Over time and through repeated loading, individual force sensing elements will eventually start to vary somewhat in sensitivity. The equilibrator applies a uniform pressure across the face of the sensor, allowing the software to easily see and quanitfy these variations. A digital compensation factor is automatically created and applied to each individual sensng element. This normalizes all of the sensing elements on the sheet, improving the accuracy and extending the lifespan of the sensor.
| | |
| --- | --- |
| Sensor in Equilibrator before software equilibration is performed. | Sensor in Equilibrator after software equilibration is performed. |
Specifications
Equilibrator Specifications
| | |
| --- | --- |
| Active Area | 533 mm x 533 mm (21.0 in. x 21.0 in.) |
| Width | 728 mm (28.68 in.) |
| Length | 692 mm (27.25 in.) |
| Height | 386 mm (15.2 in.) - including gauge and fittings |
| Weight | 75 kg (165 lbs) |
| Frame Material | Aluminum |
| Bladder Material | Urethane |
| Gauge Accuracy | 1% F.S. |
| Pressure Range | 0-689 kPa (0-100 psi) |
Control Box Specifications
| | |
| --- | --- |
| Width | 254 mm (10.0 in.) |
| Length | 267 mm (10.5 in.) |
| Height | 193 mm (7.62 in.) - including knob |
| Weight | 2.9 kg (6.5 lbs) |