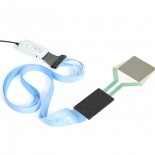 Create longer tab length to suit your application.
Description
Increase the distance between your sensor and the Tekscan sensor scanning handle (electronics) with Tekscan's reusable Tab extender. Sensors can now be used in hard to reach places and applications that require the sensor scanning handle to be a greater distance from the sensor. The extenders come in two versions: Flex-Circuit and Ribbon Cable. Both are available in standard and high temperature.
Applications
Pinch/Nip rollers
Inaccessible locations (between pipes)
Hazardous or unsafe enviornments
Accessibility (large objects in the way)
Features
Resuable
Can attach multiple tab extenders to each other for even greater reach
Compatible with most sensors that have a tab connection (Evolution & VersaTek electronics)
Compatible with sensors 0.004 in (0.1 mm.) to 0.012 in (0.3 mm.) thick
Flex-Circuit Tab Extender (TE-HT)
Ideal for applications that need 470 mm (18.5 in.) spacing between the electronics and sensor.

Ribbon Cable Tab Extender
Configured to lengths up to 6 m (20 ft.) and available in standard or high temperature ribbon cables.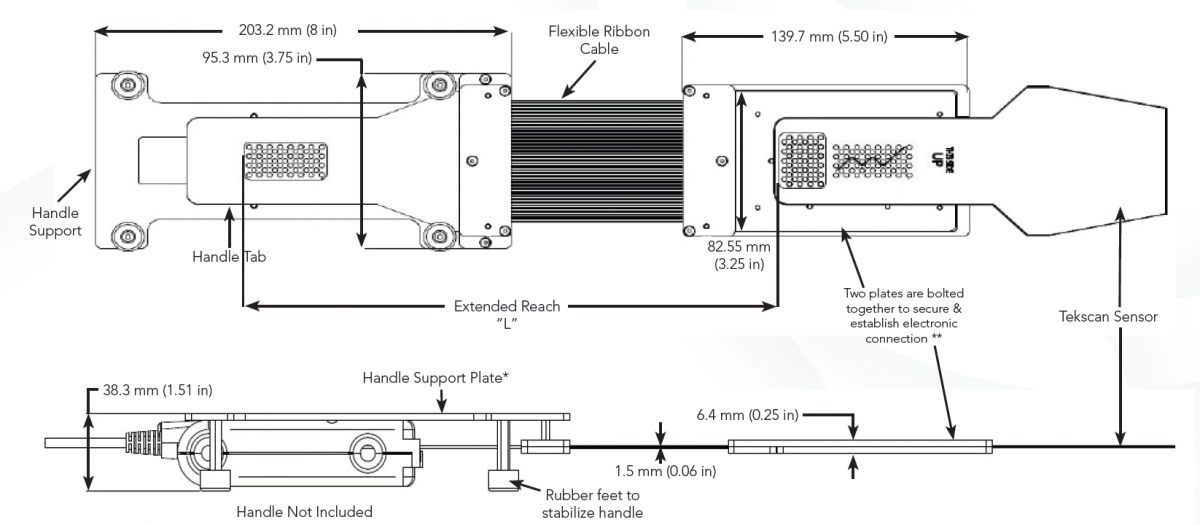 Specifications
Flex-Circuit Tab Extender
Product Specifications
Cable Matieral
Kapton
Rated Temperature
-40° to 200°C (-40° to 392°F)
Max Length
6.1 m (20 ft)
Materials in Connector
Aluminum, Silicone, Kapton
Ribbon Cable Tab Extender
Product Specifications
High Temperature
Cable Material
Fluorinated Ethylene Propylene (FEP)
Cable Width
66.04 mm (2.6 in.)
Conductors
28 AWG Copper
Rated Temperature
-40° to 200°C (-40° to 392°F)
Max Length
6 m (20 ft)
Materials in Connector
Aluminum, Silicone, Kapton
Standard Temperature
Cable Material
Polyloefin
Rated Temperature
0° to 60°C (0° to 140°F)
Max Length
6 m (20 ft)
Materials in Connector
Aluminum, Silicone, Kapton
Standard Length Cables
Part Number
Ribbon Cable Length "L"
TCRT-5
1.5 m (5 ft)
TCRT-10
3.0 m (10 ft)
TCRT-15
4.5 m (15 ft)
High Temperature Length Cables
Part Number
Ribbon Cable Length "L"
TCHT-5
1.5 m (5 ft)
TCHT-10
3.0 m (10 ft)
TCHT-15
4.5 m (15 ft)