Overview
Prescale Pressure Indicating Film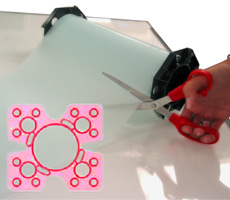 Prescale film is used to measure contact pressures. The film structure consists of micro-encapsulated color forming and developing material. When pressure is applied to the film, a red color impression is formed in varying density according to the amount of pressure and pressure distribution.
Prescale film is used in applications requiring:
Static pressure measurements
Visual pattern of peak pressure
One-time use
Points to Consider When Determining the Right Solution for Pressure Measurement
If your application involves dynamic events or calls for evaluation of pressures over time, our pressure mapping systems may be a better fit.
Prescale Pressure Indicating Film
Tekscan Pressure Mapping Systems

Static pressure measurement
High X-Y resolution
One-time use
Film is available in rolls and can be cut to size
7 available pressure ranges up to 30,000+ psi
Peak pressure snapshot
Optional digital analysis software includes:

Pressure cross-section & analyzing specific points
Histogram analysis
Total weight distribution on bar graph
ASCII output for additional data analysis

Static & dynamic pressure measurement
High X-Y resolution
Many uses per sensor
Over 75 standard shapes in varying pressure ranges offered, some trimmable
Multiple available pressure ranges up to 30,000+ psi
Real time pressure measurement
Software features include:

View & save multi-frame movie files
Plot force/pressure/area
Peak pressure vs. time
ASCII output for additional data analysis
Products & Solutions
Prescale Products