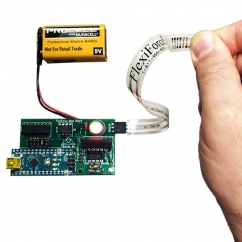 Tekscan Launches New OEM Development Tools to Help Companies Introduce Force-Sensitive Products to the Market Quicker, with Confidence
BOSTON (August 2020) ---Tekscan is pleased to announce the release of a new line of OEM Development Products aimed at streamlining the design and commercialization of FlexiForce™ force sensors. The FlexiForce™ Sensor Characterization Kit and the FlexiForce™ Prototyping Kit empower engineers to efficiently characterize, validate, prototype, and embed thin, flexible FlexiForce sensors into OEM devices and applications. The user can easily quantify sensor performance in a controlled loading environment, test with consistent electronics throughout the design process, and view/modify design elements in the open source platform. These tools combine to support design engineers in advancing more quickly and efficiently through the design process, and instill confidence that the sensor performance observed during the prototyping phase will be repeatable through field-testing, and ultimately in the final embedded product.
Navigate Sensor Integration Nuances with Ease
As demand for smart, connected, portable, low-power products continues to grow, so does the need for smaller, thinner components, like FlexiForce sensors, which introduce force feedback into OEM products without adding bulk or complex electronics. These sensors can be used in the tightest of spaces and geometries. Current force sensitive resistor development products on the market typically only provide simple analog interfaces to power and read the sensor, limiting the user to a single configuration. As a result, engineers may move to the prototyping phase without having benchmarked the sensor's performance with various electrical and mechanical peripherals. The drawback of this is that if the sensor doesn't work in the prototype in that one configuration, the user is led to believe the sensor cannot work in the application.
"To come forward with a viable prototype, design engineers need proof that the sensor will work as intended in the final design, and they need it quickly; they simply can't waste time and money on costly redesigns" explains Tekscan Applications Engineer and FlexiForce Product Manager Ed Haidar. "These tools were developed based on our years of experience working directly with OEMs through the sensor integration process; we saw opportunities to help streamline the process for our customers."
Charlie Malacaria, VP of Business Development at Tekscan adds,
"These new OEM Development Products represent Tekscan's deep commitment to the success of our customers. In any one project, engineers are tasked with familiarizing themselves with many technologies and components. Unless he or she is fully immersed day to day with a given technology, it is unrealistic to expect them to anticipate all of its inherent electrical and mechanical nuances. That's why these tools change the game for those designing with FlexiForce sensors; they can now quickly and easily test and characterize them with the same methods used by Tekscan's own applications engineers."
The FlexiForce Sensor Characterization Kit allows engineers to test with different circuits and materials. It contains a desktop load fixture, allowing users to apply controlled loading profiles to the sensor to characterize performance. It also includes various interchangeable analog circuit modules, enabling users to test and characterize the functionality of their sensors without having to build their own circuitry. The open-source software interface allows users to control loading, record sensor data, adjust sensitivity, and calibrate the sensor.
Move from Prototyping to Commercialization More Efficiently
Once the engineer/designer has characterized their sensor for circuit type, interface materials, and other early-stage design aspects, the FlexiForce Prototyping Kit (consisting of an Arduino nano chip USB interface Prototyping board, three analog circuit modules, data collection software, and FlexiForce sensors) allows the engineer/designer to test these established variables in their prototype, make sensitivity adjustments, collect data and calibrate the sensor with one simple tool.
For more information on Tekscan's OEM Development Products, visit: https://www.tekscan.com/products-solutions/force-sensor-integration-kits
About Tekscan
Since 1987, Tekscan's patented tactile force and pressure sensors and systems have provided customers across industries with the actionable information they need to optimize product designs or improve clinical and research outcomes. Our sensors and systems are used in a wide range of applications either as a stand-alone solution or as an embedded technology.