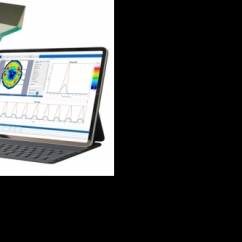 Tekscan Introduces I-Scan 9: A Reinvented, User-Friendly Software Interface for Dynamic Interface Pressure Analysis
BOSTON (June 22, 2021) --- Tekscan, Inc., is pleased to introduce I-Scan 9, a new pressure mapping software interface developed to improve user experience by making interface pressure analysis more intuitive, streamlined, and organized.
I-Scan is Tekscan's general-purpose pressure mapping system used to measure and evaluate interface pressure between two surfaces using thin and flexible sensors. R&D design engineers, researchers, manufacturers, and quality control professionals use I-Scan to identify and measure forces between two components in order to improve the repeatability of a process, verify calibration of machinery, and conduct other critical pressure measurement applications.
I-Scan 9 – now in version I-Scan 9.1 – represents a major software overhaul for the I-Scan system with an entirely new display that allows users to manage their workspace with greater ease, and improve their productivity.
"I-Scan 9 is Tekscan's most significant software upgrade in years, addressing market demands for a more streamlined and time-saving data display," says Camilo Aladro, Tekscan Pressure Mapping Product Manager. "This was a monumental effort to bring our core I-Scan legacy code into a modernized framework. Customer feedback, in particular, drove many of these new features."
With I-Scan 9.1, users can set up, calibrate, and begin collecting data with fewer steps than previous I-Scan generations. New data viewing configurations offer a variety of options to view and organize pressure data, including as tabbed or split window displays with adjustable window sizing, which was previously a manual process. I-Scan 9.1 also allows the ability to append and merge multiple recordings, a feature that is especially useful for long-term lifecycle pressure testing applications, according to Aladro.
"All I-Scan users and prospects, regardless of industry or application, will benefit from many of the new usability features in I-Scan 9.1. However, if you're an R&D engineer analyzing several data sets simultaneously, or have application requiring multiple I-Scan sensors in use at once, then you will especially appreciate many of the new features we are introducing to improve your workflow and efficiency," says Aladro.
According to Aladro, the new I-Scan 9 interface will serve as a foundation for the rest of the Tekscan system portfolio in the years to come. "I-Scan 9 is only the beginning of what is a bright future for Tekscan technology users. With much of the main coding efforts completed for I-Scan 9, our other application-specific systems will include these same functional improvements and more."
For more information about I-Scan 9.1, please contact Elizabeth Hood at 617.464.4500 ext. 223 or via email at ehood@tekscan.com. You can also learn more about I-Scan 9.1 by visiting www.tekscan.com/i-scan.
About Tekscan, Inc.
Tekscan's patented tactile force and pressure sensing solutions provide customers with the actionable information they need to optimize product design and improve clinical and research outcomes. Our sensors and systems are used across a wide range of applications within test and measurement, medical, dental, and retail; as stand-alone solutions or as embedded technologies, to create better and differentiated products. Our passion for innovation, broad expertise, and commitment to quality help turn your vision into reality.