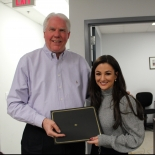 Thursday, January 30, 2020
Tekscan 2019 Employee Special Recognition
We could not be more proud of this team. Every year Tekscan likes to recognize the standout performances across our entire company. Here are Tekscan's 2019 Special Recognition winners! Congratulations Team!
Salesperson of the Year: Brittany Bearden
Certificate of Appreciation: Adam Bouhlal, Alberto Mercado, Amanda Lemus, Andy Dambeck, Arnon Ofaim, Casey Grenier, Diana Hamblin, Jen Cullen, Julian Lima, Nylton Carvalho
In addition to having a number of standout employees, Tekscan would like to recognize those who have helped us realize our growth over the years. We are proud to have so many long-tenured employees.