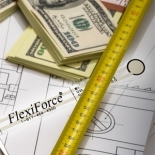 New eBook Puts OEMs in the Driver Seat in Controlling Embedded Sensor Costs
Tekscan announces the release of a new eBook detailing the direct and indirect costs involved in embedding force sensors, with the intent of helping design engineers make informed decisions when sourcing embedded components like sensors.
As more products become smart and connected, the need for sensors is at unprecedented levels. Design engineers face the monumental task of not only sourcing components that will satisfy their project requirements from a technical perspective; they also need to consider the budgetary requirements.
Tekscan's VP of Sensors Mark Lowe explains,
"Designing to budget can be more complex than it seems when it comes to embedded components like force sensors. While piece-price of the force sensor is important, other factors also influence the final cost of integrating the sensor into your product. These include direct costs like electronics to drive, condition, and capture data from the sensor. Other direct costs include mechanical parts to mount and load the sensor. Indirect costs such as prototyping and design time must also be considered."
Tekscan is actively upholding its long-stated commitment to helping its customers achieve sensing solutions of the highest quality and value.