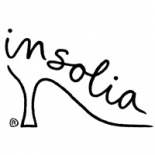 Wednesday, December 11, 2013
Insolia Chooses F-Scan to Evaluate Design Effectiveness
Plantar Pressure Sensing Confirms Insole Design
The F-Scan™ plantar pressure analysis system was used by world-renowned podiatrist Howard Dananberg, DPM, to analyze the effectiveness of insole inserts for high heels. The F-Scan captures dynamic plantar pressure and force information using extremely thin, high resolution sensors placed inside the shoe.
Recognizing the need for a better solution for women suffering with pain from wearing high heels, Dr. Dananberg created Insolia insole inserts. These inserts function to relieve the pressure on the ball of the foot. Using Tekscan's force and pressure mapping technology, Dr. Dananberg was able to pinpoint the pressure on the ball of the foot in a high heel shoe in comparison to the favorable foot position that is achieved with the insert. The accurate and quantified data that the F-Scan provides makes it the ideal tool to measure in-shoe force and plantar pressure. It gives you a view from inside the shoe without interfering with the natural foot function and gait pattern.
"In order to design Insolia products to work in high heeled shoes, we needed an accurate way to assess pressure loads without altering the fit or design of this type of shoe. The only pressure measuring product on the market which could allow this is the F-Scan system from Tekscan. We never could have refined our products without it, and are currently using it for other new and innovative products for the shoe manufacturing business."
—Dr. Howard Dananberg
Dr. Dananberg also uses the F-Scan to treat patients in his Bedford, NH clinic.
Insolia insole inserts are designed to shift the weight over a larger area and away from the ball of the foot, thereby redirecting it back to the heel; resulting in less pain. The insole inserts also help prevent the feet from moving forward within the shoes. This reduces back pain, increases comfort, and improves overall posture. Dr. Dananberg states, "A woman wearing a pair of 2-inch high heels experiences 64 percent more pressure in her forefoot than in a pair of flat shoes. Insolia reduces this to 22 percent." Insolia is available worldwide and can be purchased directly from Insolia. They can also be purchased as shoes with Insolia built into them.