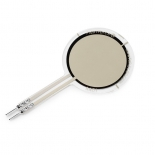 New Force Sensor Available from Tekscan!
Tekscan, Inc. is pleased to announce a new addition to its standard FlexiForce™ product line. The A401 force sensor has a 1" diameter sensing area, offering users even more flexibility in obtaining force measurements for research & design, product testing, or prototyping.
The A401 force sensor, like the popular 3/8" diameter A201 model, is paper-thin, at just 0.008" thickness. Its flexible polyester film construction allows it to be slipped into virtually any space to measure the force of two mating surfaces.
The A401 FlexiForce sensor by Tekscan can be used to:
Detect and measure a relative change in force or applied load
Detect and measure the rate of change in force
Identify force thresholds and trigger appropriate action
Detect contact and/or touch
The A401 force sensor is ideal for any force measurement application requiring a sensing area larger than the 3/8" offered by the A201 FlexiForce sensor. Common applications for the A401 are gait analysis for rehabilitation purposes, where the sensor measures heel-strike force. The sensor can also be used in robotics applications to provoke a more fluid stepping motion in a humanoid robot, for example.
A401 sensors are available in a 0-25 lb force range, and can be purchased off-the-shelf in our online store in packs of four or eight. Volume discounts are available. See force sensor specifications.