To Restore, or to Rehabilitate?
April 29, 2021, 2:00 – 3:00 pm
Dr. Riaz Yar Shows How T-Scan Aids in Comprehensive Restorative Care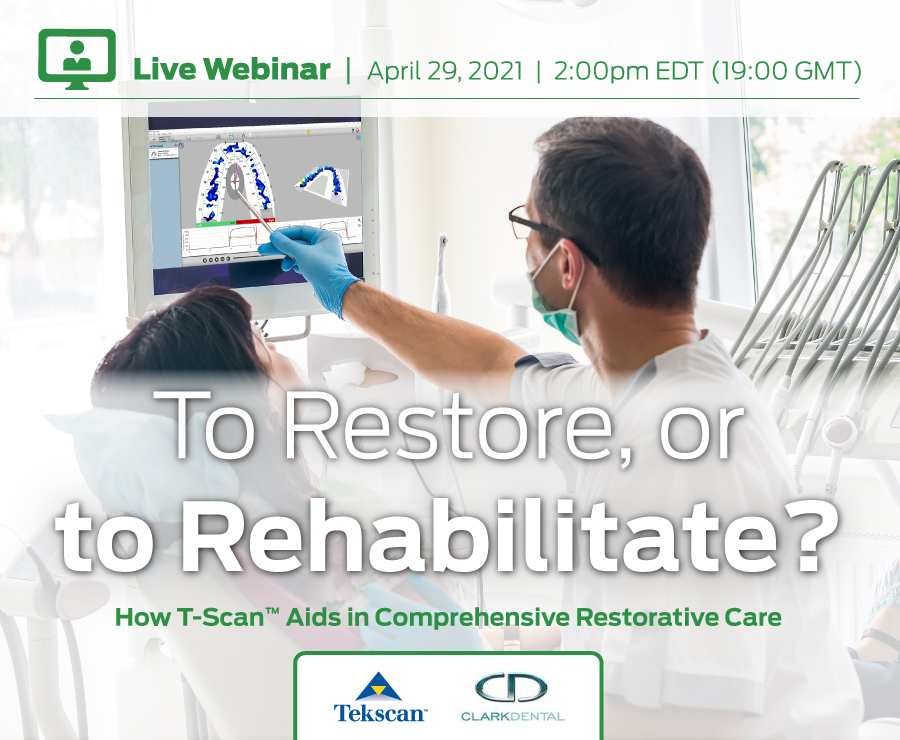 In dentistry, objective data is essential for providing comprehensive care. Relying too heavily on subjective data cannot provide the complete picture of what is happening inside of a patient's mouth.
By measuring the motion, muscle, and force of a patient's bite - all of which can be captured by the T-Scan™ digital occlusal analysis system - doctors have access to clear objective data that helps them make critical decisions when treating patients.
In this live webinar, co-sponsored by Clark Dental, Dr. Riaz Yar, international lecturer, professor, and specialty dentist in TMD, will share his recommendations for utilizing objective bite force and timing data to guide patients on their treatment path.
Presented by:

Dr. Riaz Yar
International Lecturer & Professor, Specialty Dentist in TMD, Manchester Dental Hospital

BDS, MFDS RCS (Royal College of Edinburgh), MPhil (Restorative), DPDS, Dip Implant Dent RCS (Edinburgh), MPros Dent RCS (Edinburgh), FDS RCS (Edinburgh), Masters in Soft Tissue around Teethand Implants (Bologna)
Visiting professor in prosthodontics at the College of Medicine and Dentistry - Birmingham / Ulster University
Former Program Director of the RED (Restorative Education of the Dental Team) Square – providing a MSc in Restorative Dentistry with University of Chester
Register for this Live Webinar Now!
Thursday, April 29, 2021 | 2:00 PM EDT (19:00 GMT)
Cannot make the live event? Register anyway, and we will send you a recording when available.