Identify Dental Occlusion Problems Effortlessly
You are involved every day in treatments that involve dental occlusion. The T-Scan™ is dentistry's only Digital Occlusal Analysis System that measures the level of force and timing of when the bite comes together as part of overall dental evaluations. The software graphically displays problematic high-forces and premature contacts to the user for predictable occlusal control during an adjustment procedure. Evaluate dental occlusion with precision and accuracy for better treatment outcomes.
Below is an example of high forces shown with T-Scan data:
FREE eBook - Computerized Occlusion: Using T-Scan™
See bite test technology in practice to evaluate dental occlusion. Download this FREE eBook detailing several cases that utilize the T-Scan to measure the balance of a patient's bite.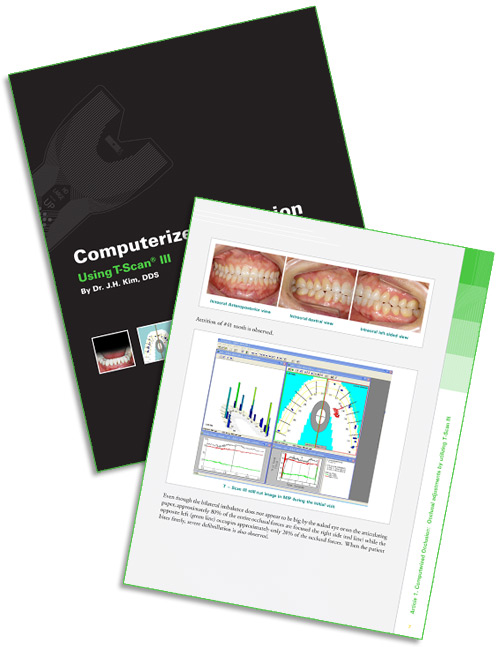 T-Scan raises the bar for in dental care by providing valuable force and timing data relative to dental occlusion. The ultra-thin, reusable sensor, shaped to fit the dental arch, inserts into the sensor handle, which connects into the USB port of your PC.
The software's vivid 2D and 3D tooth contact data highlights each tooth and the force level exerted on that tooth during occlusion. After recording a dental occlusion movie, you can store the data and document changes in the occlusion over time. Occlusal data can be transferred into other documents for patient records or insurance reports. These images and report improve patient communication and education.
In fact, many dentists rave that their patients are fascinated and impressed when they see for themselves the improvements that were made to their bite using the T-Scan Digital Occlusion Analysis System in just a few visits.
Balanced Dental Occlusion with T-Scan
See the balance of occlusal forces during the path of closure in a pre and post occlusal exam comparison utilizing the T-Scan system. Show your patients their imbalances on-screen with 2D and 3D digital data that they can easily relate to their bite forces. This puts you in control of the occlusal conversation and helps the patient understand and accept your treatment plan.
Find out more about how T-Scan can increase case acceptance and improve practice revenue: