Pressure Distribution of Printer Ink Cartridge Seal
Challenge
Ensuring a proper seal between an ink cartridge cap and cartridge body is vital for proper performance of a printer. A weak seal can cause leaks, clogging of pen nozzles and overall poor printing performance, resulting in high warranty replacement costs and customer dissatisfaction.
Solution
The I-Scan™ pressure mapping system offers instantaneous insight into the pressures being exerted upon the cartridge cap. If uneven pressures exist, I-Scan will illustrate them in vivid 2D and 3D images. With the I-Scan's real-time display, changes in pressure are easily identified and cartridge adjustments can be made. The patented, thin (0.1mm) sensors easily fit into this application, minimizing environmental disturbance.
With the help of Tekscan's highly qualified sales and engineering support team, each system may be configured to meet your specific needs. Learn more about I-Scan pressure mapping system.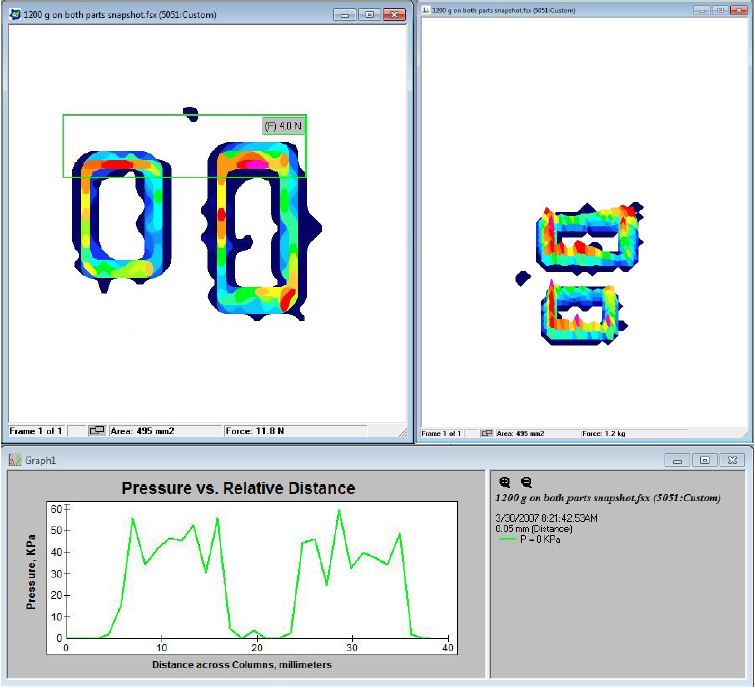 2D and 3D Pressure output display of two printer cartridge caps. The caps were tested using sensor model 5051 for proper sealing pressures. Higher pressures were identified along the top and corners of the cartridge capts. Uneven pressures evident in the 3D view result in gaps along the seal.
Ink Cartridge Pressure Distribution Applications
Design verification testing
R&D for new designs
Reliability testing
Benefits of Pressure Mapping
Minimize product waste
Identify & troubleshoot leaks
Improve design
See how Pressure Mapping Technology can help prove proper seal contact, such as in the case of product packaging processes: