Evaluate Brake Pad Pressure Distribution
The I-Scan™ pressure mapping system is a versatile research and development tool for brake system and friction plate manufacturers. The system can provide instant insight into the dynamic forces and pressures acting between a brake pad and rotor or brake shoe and drum. The I-Scan system clearly shows where uneven pressures exist between these mating surfaces, predicting wear and stress on the pad. This information can be used to address the challenges facing brake design engineers, such as reducing brake noise, vibration, and harshness through design improvements.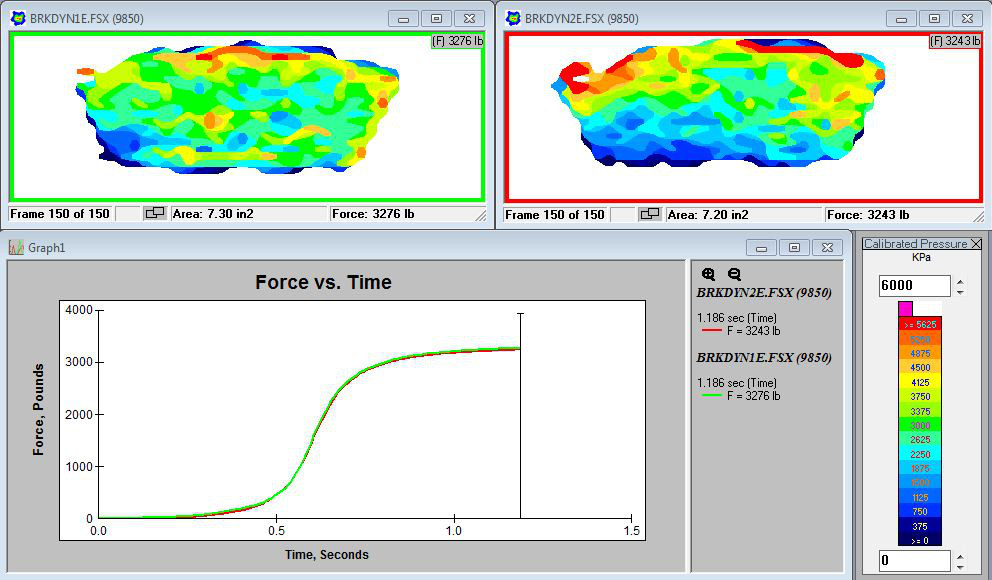 Difference in pressure pattern of inboard (piston side) and outboard (finger side) of brake page showing flexing of both pads
Tekcan's patented, thin-film sensors are available in different shapes, are reusable, and provide accurate pressure readings. With the help of our highly qualified sales and engineering support team, each system may be configured to meet your specific needs.
Brake Pad Pressure Measurement Applications
Brake design research and assessment
Design comparison testing
Predictive testing
Design validation
Noise, vibration, and harshness testing
Benefits of Pressure Mapping
Validate FEA models
Reduce test time
Reduces need for roadway testing
Saves time and money
See how Pressure Mapping Technology can help automobile manufacturers obtain dynamic pressure data to extend the life of vehicle components, like brake pads: