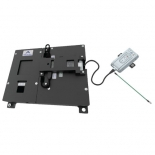 An all-in-one wireless solution allowing for Tekscan's fastest scanning speeds with real-time viewing.
Description
Ideal for applications where the object being measured is in motion or involves a hazardous area or materials. Scanning electronics consist of a VersaTek handle, Remote VersaTek Hub, and a preconfigured wireless router. A sensor connects to the handle, and the handle connects to the hub via CAT5E cable. The hub consists of a VersaTek 2-port hub, a micro PC (Intel® Compute Stick), and a power bank. Through a wireless connection, the hub can be controlled through remote desktop on a different PC. This configuration provides Tekscan's fastest scanning speed while allowing real-time feedback, configuration, and triggering on the wireless connection.
Up to 20,000 Hz scanning speed
Embedded with a preconfigured wireless router
Enables real-time viewing via Remote Desktop connection
Simultaneously record up to 2 handles
Specifications
Remote VersaTek Hub
System Part #
VR2H-1

Physical Characteristics

Housing Material

Handle: Polycarbonate/ABS blend (Grey)

Wireless Unit: Nylon with a Delrin Cover

Wireless unit mounting fixture: Polyurethane [PUR] (Black)

Connection Type
802.11n wireless
Weight
4.0 lbs (1.8 kg)
Power Source
Power Bank: 12V and 5V / 6,000 mAH
Standard Cable Length

Handle to Unit: 4.57 m (15 ft)

Maximum Cable Length
30 m (100 ft)

Operating Characteristics

Maximum Scanning Speed
Up to 20,000 Hz (speeds vary by sensor)
Handles Supported by Hub
2
Pulse-Per-Frame Synchrinization
Yes
Digital Pressure Resolution
8 Bit
Communication to PC
802.11n wireless
Sensitivity Adjustment
x 7 to 1/3 of Sensor Pressure Range
Battery Life
4 Hours of continuous operation

Operating Conditions

Temperature
-20°C to 55°C (-4°F to 95°F)
Relative Humidity
5 to 90 (non condensing)

System Components (Part #)

VersaTek Handle (VH-1), Remote VersaTek Hub with Mount (VR2H-1) [Includes 2-port Hub and Micro PC], Power Bank 12V/5V with Charger (97-01-001), Handle Mounting Bracket (60-04-001), System Carrying Case, Sensor Carrying Case, System Manual.