F-Scan® System
in-shoe plantar pressure analysis
Paper-thin sensors placed inside footwear capture dynamic in-shoe pressure information unseen by the naked eye.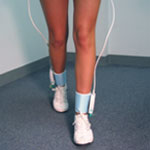 F-Scan Foot Pressure Mapping System Features:
In-shoe pressure and force information reveals interaction between foot and footwear
Quantifies force, contact pressure distribution, and timing (unlike traditional visual observation of foot function and gait)

Extremely thin, high resolution F-Scan sensor ensures the most accurate data is captured

Sensors trim to fit shoe size and a wide range of footwear (up to size 24E)

The F-Scan system is completely portable so data can be recorded in the office or in the field
Benefits of Plantar pressure analysis:
Manage treatment of foot inside the shoe

Enhance treatment outcomes

Improve orthotic footwear performance

Reduce costs by minimizing the need for follow-up and orthotic adjustments

Increase patient satisfaction and generate more referrals

Provide supporting documentation for fee-for-service approach and/or insurance claims

A comparison of gait, pre and post-treatment

Pressures and forces during gait displayed in time graphs

Position and trajectories for Center of Force (CoF) during stance phases of gait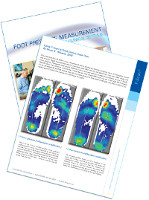 FREE eBOOK: FOOT PRESSURE MEASUREMENT IN A CLINICAL SETTING
Download this FREE eBook to see how foot pressure data contributes to more efficient treatment and better outcomes.
F-Scan Hardware Choices
---
| | | |
| --- | --- | --- |
| Tethered | Wireless | New! Datalogger |
| Connect via USB to computer | Record pressure data in real-time via Wi-Fi network | Recorded data is stored by datalogger for upload to the computer |
User Experience:
"The F-Scan system has completely changed my understanding of the foot's function. I can now "see" how small changes in a custom orthotic device greatly affect foot function. I am able to make step-by-step changes and modifications to my patients' orthotics and know immediately whether it has bettered or worsened their condition. Because of my work with the F-Scan system, I enjoy my podiatric practice again. It is extremely fulfilling to help someone eliminate their limping gait and greatly decrease their pain." Bruce Williams, DPM, Merrillville, IN.
A Tekscan system consists of scanning electronics, software and patented thin-film sensors.
The F-Scan system is available in multiple configurations. Your Tekscan sales representative will help you determine the best system for you, based on your needs.
F-Scan

System

Components
System Setup
System Description
System Components

F-Scan Tethered



Wires connect the sensor and scanning electronics on the subject to the computer via USB port to a distance of up to 30.5 meters (100 ft). Dynamic events are captured with high scan rates up to 750 Hz.

(2) VersaTek Cuffs

(1) VersaTek 2-Port Hub

F-Scan Software CD

F-Scan Sensors*

F-Scan Wireless



Data is transmitted directly from the subject to the computer, allowing for a wide range of applications. The subject can be up to 100 meters (328 ft) away and data can be recorded and displayed on the computer in real time. Scanning rates of up to 100 Hz are available with wireless connectivity.




(2) VersaTek Cuffs

F-Scan Software CD

F-Scan Sensors*

(1) Wireless Unit

F-Scan Datalogger - New!

Collects and stores sensor data in its internal memory for upload to a computer at a later time. The subject can travel over 100 meters from the computer and can be used when a recording needs to be made over an extended period of time. Scan rates of 750 Hz can be achieved.

(2) VersaTek Cuffs

F-Scan Software CD

F-Scan Sensors*

(1) Datalogger

(1) 8 GB Memory Card

F-Scan Wireless and Datalogger

Both options offer complete flexibility.

(2) VersaTek Cuffs

F-Scan Software CD

F-Scan Sensors*

(1) Wireless Unit

(1) Datalogger

(1) 8 GB Memory Card

*Sensor selection dependent on application
Every VersaTek based system uses specially designed scanning electronics called Cuffs. The Cuffs connect to the sensor, gather the data from the sensor, and then process and send this data to your computer via USB connection. VersaTek electronics sample at the fastest speeds and are compatible with other VersaTek sensors, giving you the ability to add in-shoe, prosthetic, grip, and seating & positioning capabilities to your Tekscan System.
F-Scan Pressure Sensors:
3000E- The standard in-shoe sensor used for most standard applications:
Pressure ranges of 50-75 psi/345-517 kPa (sensitive) to 125 psi/862 kPa (standard)
Assess subjects while in motion using 960 sensing elements
Extremely thin (0.007"/0.15 mm) sensor that fits insole sizes up to 14 USA
Resistive technology
Other F-Scan sensors include:
3001E- An extended sensor tab allows for use with high-ankle footwear such as ski, military or work boots
3005E- An extra large in-shoe sensor, trimmable down from a men's size 24E USA
F-Scan Pressure Measurement Software Features:
Display dynamic 2-D and 3-D real-time and recorded data

Display pressure and force curves over time

Compare pre- and post-treatment conditions side-by-side

Force-time integrals (Impulse)

Frame by frame, single, and multi-stance phase displays

Isolate and analyze specific areas of plantar foot

Import and export client movie files

Display Center of Force and its trajectory
The software is available in several languages including Spanish, French and German. View software languages available.
User Experience
"One power of the F-Scan system lies in the immediate and totally obvious visual feedback. Most cases are definitive even without referring to the staggering ability of the software to represent the data in any way you can think of. This simplicity combined with the fact that it is a foolproof means of pre- and post-testing treatment methodology makes this system invaluable to the clinician." Larry Pace, PTA, CSCS, USA Triathlon Coach, SATORI Physical Therapy & PACE Sports Training, Orange, CA
F-Scan Plantar Pressure Measurement Applications:
Analyze pathomechanics related to foot dysfunctions and gait disorders
Assess effect of orthotics on foot and gait biomechanics
Screen for disorders secondary to diabetes and other neuropathic issues
Identify areas of potential ulceration
Observe foot function and gait abnormalities
Regulate weight bearing after surgery
Compare pre- and post-surgery conditions
Monitor degenerative foot disorders
Assess high pressures due to ray hypomobility
Isolate regions of the foot for segmented analysis
Footwear Research & Design
Numerous articles have been published regarding computerized gait analysis and its applications. Tekscan has compiled a list of these research publications in our Medical Bibliography.