Standard FlexiForce Sensors for Force Measurement
FlexiForce force sensors are ultra-thin and flexible printed circuits, which can be easily integrated into force measurement applications. These sensors are available for purchase in our online store.
FlexiForce® sensors are utilized in many applications to: 

 

Detect and measure a relative change in force or applied load
Detect and measure the rate of change in force
Identify force thresholds and trigger appropriate action
Detect contact and/or touch

 

FlexiForce Sensor Definition

 

FlexiForce: (Noun) Pronunciation: flex e fôrs

1. a: a versatile, durable piezoresistive force sensor that can be made in a variety of shapes and sizes; b: a piezoresistive sensing device in which resistance is inversely proportional to applied force;

 

2. a customizable force sensor and economical force measurement tool that is easily integrated into OEM products;

 

3. a: a patented, ultra-thin (0.008 in.), flexible printed circuit that senses contact force; b: a force and load sensor that is available in varying force ranges and standard models (A201, A301, A401, HT201), suiting a variety of applications for research and product development/testing

 

Benefits of FlexiForce Sensors

Greater flexibility
Superior linearity & accuracy (±3%)
Expert technical guidance
Wide range of forces
Sensor output is not a function of loading area
High temperature force measurements (up to 400ºF) available with High-Temp Model (HT201)
Optional sensing area sizes
Off-the-shelf availability for testing & prototyping   

A201 Force Sensors - Buy Now

HT201 Force Sensors - Buy Now

A301 Force Sensors - Buy Now

A401 Force Sensors - Buy Now
 

A201 MODEL

HT201 (HIGH-TEMP) MODEL
A301 MODEL
A401 MODEL

Physical Properties

Thickness
0.008 in. (.203 mm)
Length

7.75 in. (197 mm)

6 in. (152 mm)*

4 in. (102 mm)*

2 in. (51mm)*

1 in. (25.4 mm)

2.24 in. (56.8 mm)
Width
0.55 in. (14 mm)
Sensing Area
0.375 in. diameter (9.53 mm)
0.375 in. diameter (9.53 mm)

1.0 in. diameter

(25.4 mm)

Connector
3-pin male square pin
2-pin male square pin

Typical Performance

Linearity Error
<±3%
<±3%
<±3%
<±3%
Repeatability

<±2.5% of full scale

<±3.5% of full scale

<±2.5% of full scale

<±2.5% of full scale

Hysteresis

<4.5% of full scale

<3.6% of full scale

<4.5% of full scale

<4.5% of full scale

Drift

<5% per logarithmic time scale

<3.3% per logarithmic time scale

<5% per logarithmic time scale

<5% per logarithmic time scale

Response Time
<5 microseconds
TBD
<5 microseconds
<5 microseconds

Operating

Temperatures

-40°F - 140°F

(-40°C - 60°C)

-40°F - 400°F

(-40°C - 204°C)

-40°F - 140°F

(-40°C - 60°C)

-40°F - 140°F

(-40°C - 60°C)

Force Ranges

0-1 lb (4.4 N)

0-25 lb (110 N)

0-100 lb (440 N)**

Low: 0-30 lb (133 N)

High: 0-100 lb (440 N)**

≈ 0-1 lb (4.4 N)

≈ 0-25 lb (110 N)

≈ 0-100 lb (440 N)**

     0-25 lb (110 N)***

Temperature

Sensitivity

Output variance up

to 0.2% per degree F

Output variance up to

0.16% per degree F

Output variance up

to 0.2% per degree F

Output variance up

to 0.2% per degree F
* For an additional fee.
** See recommended drive circuit. In order to measure forces above 100 lbs. (up to 1000 lbs.), apply a lower drive voltage and reduce the resistance of the feedback resistor (1 k Ω min).
***Measurement ranges of 0-1 lb and 0-7000 lb are achievable with the A401 sensor by utilizing the recommended circuitry.  The force range can be extended by reducing the drive voltage, VT, or the resistance value of the feedback resistor, RF.  Conversely, the sensitivity can be increased for measurement of lower forces by increasing VT or RF.
Example of A201 Excitation Circuit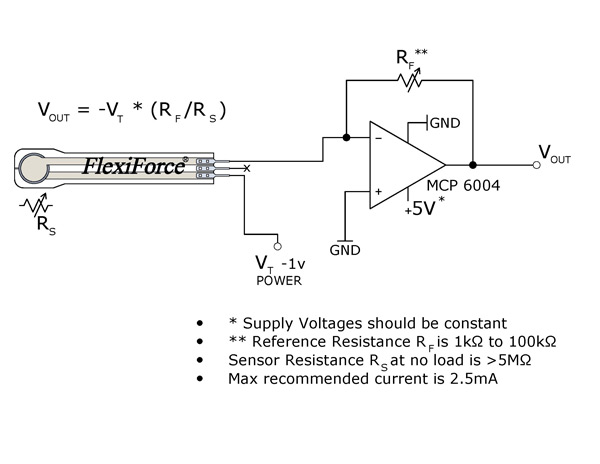 Please contact us regarding circuit schematics for other sensor models.
How the FlexiForce Sensor Works
The FlexiForce sensor acts as a force sensing resistor in an electrical circuit. When the force sensor is unloaded, its resistance is very high. When a force is applied to the sensor, this resistance decreases. The resistance can be read by connecting a multimeter to the outer two pins, then applying a force to the sensing area. Figure 1 below shows both the Force vs. Resistance and Force vs. Conductance (1/R). Note that the conductance curve is linear, and therefore useful in calibration.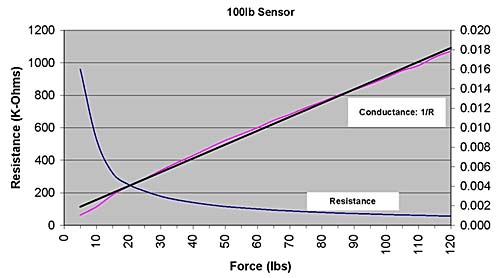 Figure 1: Force v. Resistance/Conductance
One way to integrate the FlexiForce sensor into an application is to incorporate it into a force-to-voltage circuit. A means of calibration must then be established to convert the output into the appropriate engineering units. Depending on the setup, an adjustment could then be done to increase or decrease the sensitivity of the force sensor. Figure 2 below shows a typical sensor response (based on our recommended drive circuit).
Figure 2: Typical Sensor Response
FlexiForce User Manual
For more detailed information about setting up and using your FlexiForce sensors, please download the FlexiForce User Manual.
Other Force Sensing Options
We also offer a complete force measurement system.  The ELF™ System is a turnkey package containing force measurement software, electronics, and force sensors. 
The unique construction of FlexiForce® sensors carries the following advantages:
better linearity
measurement of higher loads
stable output with respect to load area
FlexiForce Sensor Construction
The FlexiForce force sensor is an ultra-thin, flexible printed circuit. The standard A201 force sensor is constructed of two layers of substrate (polyester) film. The high-temp model (HT201) is constructed of two layers of polyimide.
On each layer, a conductive material (silver) is applied, followed by a layer of pressure-sensitive ink.
Adhesive is then used to laminate the two layers of substrate together to form the force sensor.
The active sensing area is defined by the silver circle on top of the pressure-sensitive ink. Silver extends from the sensing area to the connectors at the other end of the sensor, forming the conductive leads.
A201 sensors are terminated with male square pins, allowing them to be easily incorporated into a circuit. The two outer pins of the connector are active and the center pin is inactive.
 
FlexiForce Sensors measure force between virtually any two mating surfaces.  Below are a few recent examples demonstrating ways customers are using our technology.
View All FlexiForce Application Briefs
There have also been a number of research projects conducted where FlexiForce sensor technology has played a crucial role. For a list of research studies, download the FlexiForce bibliography.
FlexiForce quickstart board: sensor integration made easy
The FlexiForce Quickstart Board is a finished single voltage source circuit which you can quickly drop into a prototype or easily design into a product to obtain force measurements. Perfect for the FlexiForce user looking for a completed circuit to use in their project, the Quickstart Board contains:

 

a FlexiForce Quickstart Board
Dimensions: 1.25" x 1.25"
Input: 3.3V – 9V
Output: 0V – 5V nominal (Vin ≥ 5V)
a battery clip
Limited time only! (2) two free FlexiForce sensor samples

 

Purchase your FlexiForce Quickstart Board today for just $150!
Quickstart Board Components
FlexiForce Starter Kit: Everything You Need to Build a Circuit and Measure Force
Ideal for the FlexiForce customer who is a novice when it comes to building circuits, as well as for the FlexiForce user who prefers the convenience of one-stop shopping, the FlexiForce Starter Kit contains:

 

a breadboard
necessary circuit components
a step-by-step manual with detailed instructions and images to guide the user in correctly building a circuit for the FlexiForce sensor
two (2) free FlexiForce sensor samples

 

Purchase your FlexiForce Starter Kit today for just $99.

 
FlexiForce Starter Kit Components
FlexiForce® Sensor Pricing
---

Standard FlexiForce Sensors: A201

---

 
4-Pack
8-Pack
 
 
 
 
 
 
 
 
 

Standard Length

(7.75 in.)

$65/pack

$117/pack

 
 
 

Trimmed

(6 in., 4 in. or

2 in.)

$77/pack
$140/pack 
 
 
 
 
 
 
 

---

High-Temp FlexiForce Sensors: HT201-L

---

 
4-Pack
8-Pack
 
 
 
 
 
 
 
 
 

Standard Length

(7.75 in.)

$163/pack

$293/pack
 
 
 

Trimmed

(6 in., 4 in. or

2 in.)

$183/pack 
$325/pack
 
 
 
 
 
 
 
 
 
 
 
 
 
---

High-Temp FlexiForce Sensors: HT201-H

---

 
4-Pack
8-Pack
 
 
 
 
 
 
 
 

Standard Length

(7.75 in.)

$265/pack

$476/pack
 
 
 

Trimmed

(6 in., 4 in. or

2 in.)

$285/pack 
$508/pack
 
 
 
 
 
 
 
 
 
 
 
 
 

---

A201- Variety Pack (8-pack) $140/pack

HT201- Variety Pack (8-pack) $325/pack

Female Berg Receptacles #65801-003 $1.50 each

---

FlexiForce Sensors: A301

---

4-Pack
8-Pack
 
 
 
 
 
 
$65/pack
$117/pack
 
 
 
 

---

FlexiForce Sensors: A401

---

4-Pack
8-Pack
 
 
 
 
 
 
$78/pack
$140/pack
 
 
 
 
---

FlexiForce Starter Kit & QuickStart Board

---

Starter Kit

QuickStart Board

 
 
 
 
 
 
$99
$150