Custom FlexiForce Force Sensors
Custom Force Sensors for OEM Applications
FlexiForce® sensors are piezoresistive force sensors which can be customized for OEM applications. 
With its paper-thin construction, flexibility, and force sensing ability, the FlexiForce® FSR Sensor can measure force between almost any two surfaces and is durable enough to stand up to most environments.  The unique construction and durability of these FSR sensors enables Tekscan to create custom-designed FSR sensors to meet the specific needs of many OEM customers.  We also offer standard off-the-shelf sensor products for prototyping and low-quantity requirements.
The sensors are commonly used to:
Detect and measure a relative change in force or applied load
Detect and measure the rate of change in force
Identify force thresholds and trigger appropriate action
Detect contact and/or touch 
Standard & Custom OEM Force Sensing Solutions
FLEXIFORCE CUSTOM FORCE SENSORS:
Choosing FlexiForce as your OEM force sensor carries a variety of advantages over the competition, including:
Superior linearity & accuracy (±3%)
Expert technical guidance in custom solutions
Wider range of forces
Sensor output is not a function of loading area
High temperature versions (up to 400°F) available
Custom sensors are 100% tested to ensure they meet agreed-upon specifications
We accept custom jobs with quantities as low as 1000 to as high as millions of sensors
WHOLE FORCE SENSING SOLUTIONS
Our experienced engineering team works closely with you throughout each stage of the design process to ensure the best sensor design for your application. For customers who need custom application software to complement their sensors, we team up with trusted partners to combine our expertise and develop complete specialized solutions.
Tekscan can make custom FSR sensors in virtually any shape and we offer a wide range of sizes and force ranges.  Custom sensors are manufactured and tested to ensure they meet the agreed-upon specifications, including accuracy and repeatability.
Typical Sensor Performance Specifications:
Linearity (Error): < ±3% (Line drawn from 0 to 50% load)
Repeatability: < ±2.5% of Full Scale (Conditioned Sensor, 80% of Full Force Applied)
Hysteresis: < 4.5 % of Full Scale (Conditioned Sensor, 80% of Full Force Applied)
Drift: <5% per logarithmic time (Constant Load of 90% sensor rating)
Response Time: < 5 µsec (Time required for the sensor to respond to an input force; Impact load - recorded on Oscilloscope)
Operating Temperature: 15°F - 140°F (-9°C - 60°C)* (Standard) 15°F to 400°F (-9°C to 204°C) (High-Temp Option)
* Force reading change per degree of temperature change = ±0.2% / °F (0.36%/°C)
Click on any of the images below to see examples of various custom sensor designs we have made, including large, small, single-point, and multi-point sensor designs.
How the Sensor Works
The FlexiForce sensor acts as a force sensing resistor in an electrical circuit. When the force sensor is unloaded, its resistance is very high. When a force is applied to the sensor, this resistance decreases. The resistance can be read by connecting a multimeter to the outer two pins, then applying a force to the sensing area. Figure 1 below shows both the Force vs. Resistance and Force vs. Conductance (1/R). Note that the conductance curve is linear, and therefore useful in calibration.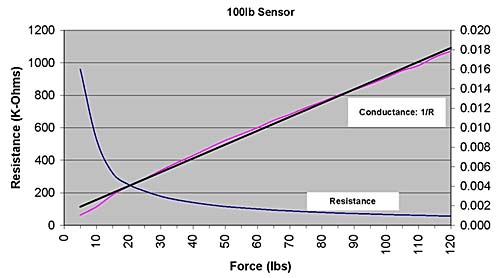 Figure 1: Force v. Resistance/Conductance
One way to integrate the FlexiForce sensor into an application is to incorporate it into a force-to-voltage circuit. A means of calibration must then be established to convert the output into the appropriate engineering units. Depending on the setup, an adjustment could then be done to increase or decrease the sensitivity of the force sensor. Figure 2 below shows a typical sensor response (based on our recommended drive circuit).
Figure 2: Typical Sensor Response
THE UNIQUE CONSTRUCTION OF FLEXIFORCE®  SENSORS CARRIES THE FOLLOWING ADVANTAGES:
better linearity
measurement of higher loads
stable output with respect to load area
STANDARD SENSOR CONSTRUCTION

Custom FlexiForce sensors, like the standard A201 FlexiForce sensor are ultra-thin, flexible printed circuits.

 

They are constructed of two layers of substrate (polyester) film. High-temp versions are constructed of two layers of polyimide. On each layer, a conductive material (silver) is applied, followed by a layer of pressure-sensitive ink. Adhesive is then used to laminate the two layers of substrate together to form the force sensor. 

 

Figure 1 at right shows the individual layers of the standard sensor construction. 

 

Figure 1

ZIF-COMPATIBLE SENSOR CONSTRUCTION

 

Tekscan also offers a one-sided connection method for custom sensors, which allows you to utilize a ZIF or LIF connector.  A ZIF connector is typically mounted to a circuit board, and the sensor tail simply slides in to the connector.  A locking mechanism generally holds the sensor in place.

 

Figure 2 at right  illustrates the construction of the ZIF-compatible sensor.

 

Figure 2
FLEXIFORCE® SENSOR APPLICATIONS
FlexiForce® Sensors are available in standard and custom configurations to satisfy the unique requirements of your product or application.  Below are some recent examples of how FlexiForce sensors have been used in various applications.
TESTING & PROTOTYPING: OFF-THE-SHELF OPTIONS
Tekscan offers a variety of off-the-shelf FlexiForce® options in standard forms for testing and prototyping.  Standard sensors start at just $65 for a pack of four sensors, and can be purchased online.
TESTING & PROTOTYPING: CUSTOM OPTIONS
Before committing to a large volume of custom sensors, some customers prefer to order a small quantity of custom sensors to ensure that the intended design will in fact be successful in their application.  Our sales engineers work closely with customers to develop a package which includes design, tooling, and prototype sensors for one flat fee.  Contact us to discuss prototyping options in more detail.
CUSTOM SENSOR QUOTE: PRODUCTION QUANTITIES
Custom sensor options are available for OEM applications requiring large quantities of sensors (typically 1000 pieces or more).  Sensor piece-price is determined by a number of factors, including size, quantity, and performance criteria. To initiate the quoting process and learn more about capabilities, please complete the online Custom FlexiForce Sensor RFQ form.  
If you wish to expedite the quoting process by providing more complete details regarding your project and sensor requirements, including sketches if possible, please complete the detailed FlexiForce Custom Request Form. 
A FlexiForce sales engineer will contact you as soon as possible to discuss your requirements and provide more detail regarding the customization process.