Bite Test & Adjust with Precision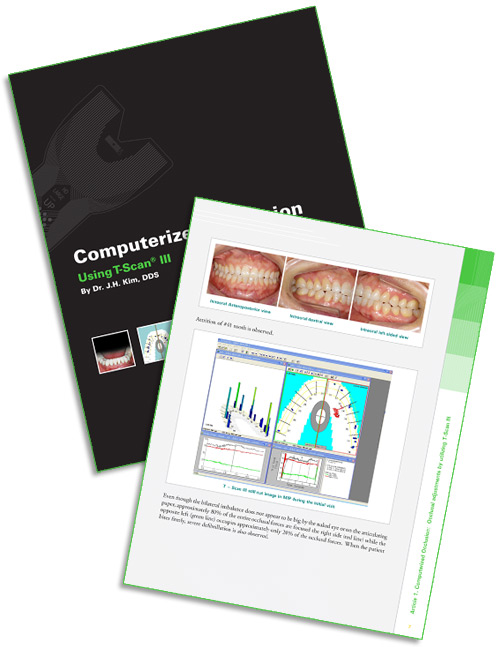 See bite measurement and analysis technology in practice. Download this FREE eBook detailing several cases that utilize the T-Scan® to measure the balance of a patient's bite. Bite testing allows you to evaluate occlusal contacts prior to making a bite adjustment and successfully treat clinical conditions. In this eBook, translated to English from Korean, Dr. Jin-Hwan Kim details several of his clinical cases. By leveraging T-Scan, Dr. Kim is able to accurately capture and interpret his patient's bite dynamics, resulting in faster case finishing and satisfied patients.
Download Computerized Occlusion: Using T-Scan III to find out how you can:
improve efficiency of restorative cases
resolve jaw pain
manage and adjust implants
locate and identify traumatic occlusal contacts
About Dr. Jin-Hwan Kim, DDS:
Private practice, One Day Dental clinic, Seoul, Korea.
Graduate School of Dentistry, Seoul National University
Board member of Korean Academy of Esthetic Dentistry(KAED)
Board member of Korean Academy of Computerized Dentistry(KACD)
Board member of Department of Management and Policy, Korean Dental Associsation
Board member of ICOI-Korea
Clinical professor of Joongang University
Clinical professor of Hallim University
CEO of Theo Dental Inc.
*Special thanks to our friends at Yours Dental Co., Dr. Jin-Hwan Kim and Dr. Robert Kerstein for their contributions to the creation and translation of this book.
Read an excerpt from the Introduction below and then register for access to actual cases.
Please complete the form below to download the free eBook!