Remote Triggering with TT-1 and TR-1
Control recordings from a distance and synchronize the start and stop of data collection with other devices.
Description
Trigger Transmitter (TT-1) and Trigger Receiver (TR-1) let you manually or electronically initiate VersaTek™ wireless or datalogger recordings.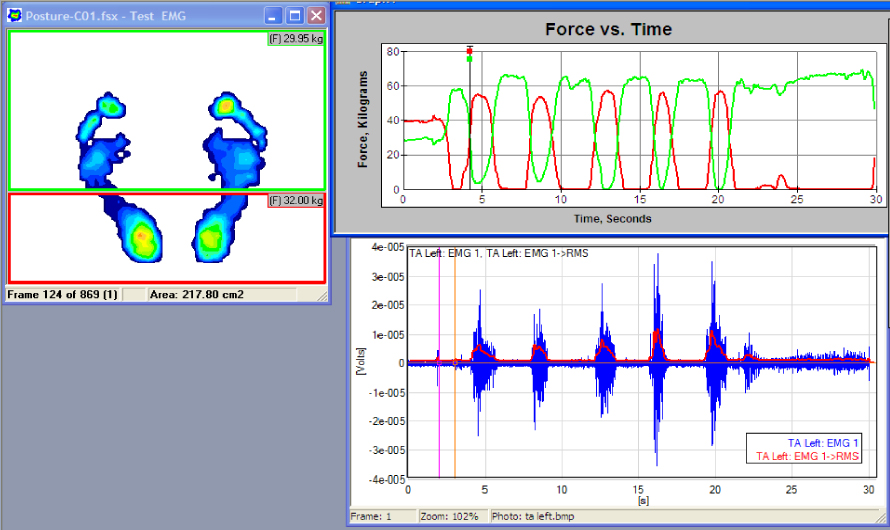 Analyze the relationship between muscle activity and plantar pressure distribution with the Trigger Transmitter (TT-1) and Trigger Receiver (TR-1).
Key Features:
Flexible Triggering
Triggers on positive or negative voltage transitions

Up to two Wireless or Datalogger Units can be triggered from a single trigger source via the TT-1
Fast, reliable frame-by-frame triggering for frame congruence
Maximum frame trigger rates of up to 240 Hz with Datalogger and up to 100 Hz with Wireless

Automatic frame recovery
Convenient and compact
Small, durable plastic casing

Custom TR-1 pouch neatly attaches to Wireless/Datalogger belt
Remote triggering capability requires Research Software version 6.70 or highler, or Clinical software version 6.70 with the External Trigger software feature add-on. FCC and CE versions available.
The TT-1 and TR-1 are functionally compatible with the Tekscan VersaTek Datalogger products, though it is not considered a medical device. The Wireless Trigger/Receiver is FCC and CE certified and is also compliant to EMC radiated emissions requirements. Certifications are available upon request.