Get the Essential Data You Need to Assess Chronic Ankle Instability
Twenty-five percent of all sports injuries are ankle sprains, which if left untreated or if improperly diagnosed, can result in lingering symptoms and decreased athletic performance.
McKeon and Hertel state, 'criticism of the traditional measures is that they may lack the sensitivity to detect postural control differences associated with CAI.'1
How can you objectively assess lower limb instabilities?
SportsAT™ software works with the MobileMat™, a portable pressure measurement mat, to provide key data for identifying chronic ankle instabilities, including time-to-boundary (TTB) measures. According to Hertel and Olmsted-Kramer, 'time-to-boundary measures appear to detect postural control deficits related to chronic ankle instability that most of the traditional COP-based measures fail to.'2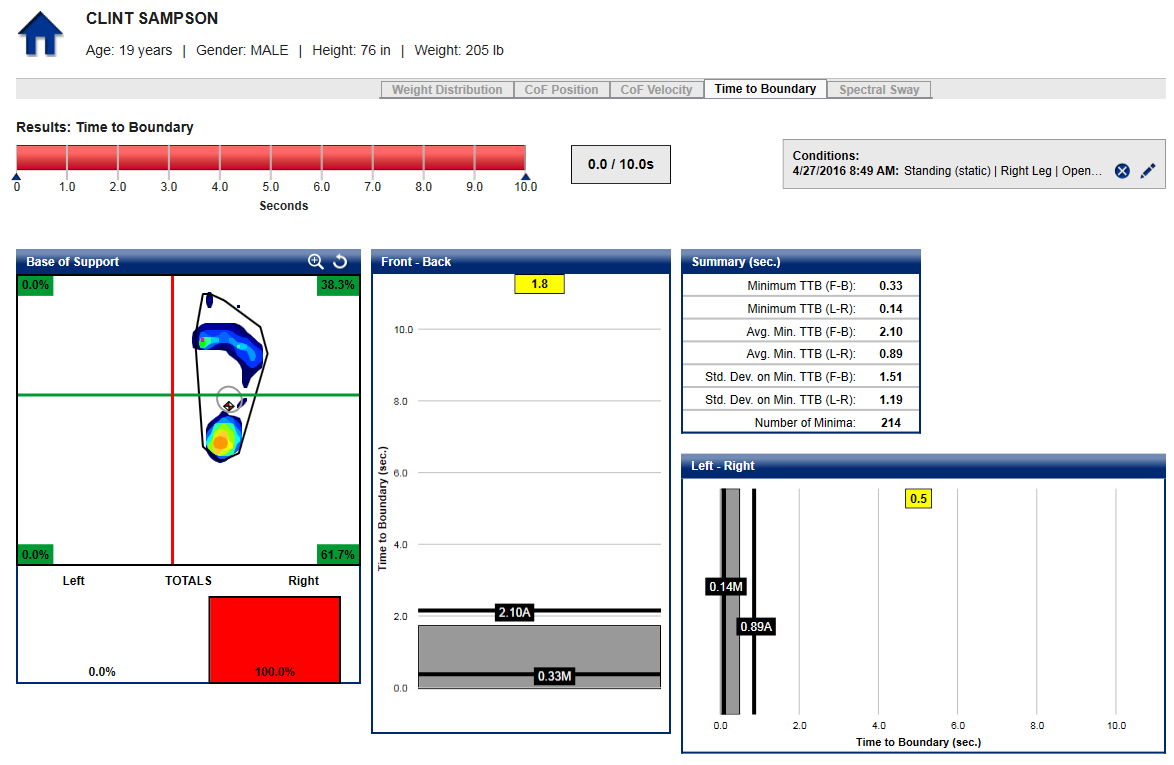 According to recent research, time-to-boundary calculations have been associated with identifying chronic ankle instability.
Track patient progress over time and simplify time-to-boundary calculations with SportsAT. With automatic calculations, there's no need to export data to ASCII for complex calculations.
Feel More Confident in Return-to-Play Decisions
Identify injury risk with weight bearing information.
The light-weight and durable MobileMat can be used for more than just chronic ankle instability assessments. Protocol driven software provides insights into lower extremity injury assessments, gait analysis, static/dynamic balance testing and MORE!
1. McKeon, Patrick and Jay Hertel. 2008. "Spatiotemporal Postural Control Deficits are Present in Those with Chronic Ankle Instability.' BMC Musculoskeletal Disorders 9:76.
2. Hertel, Jay and Lauren C. Olmsted-Kramer. 2007. "Deficits in Time-to-Boundary Measures of Postural Control with Chronic Ankle Instability.' Gait & Posture 25, 33-39.